Would you like to become a land due diligence expert?
Imagine you just bought a beautiful parcel of land in West Virginia right near the river in a picturesque small town.
You are thrilled with the purchase and excited to begin planning your perfect weekend getaway.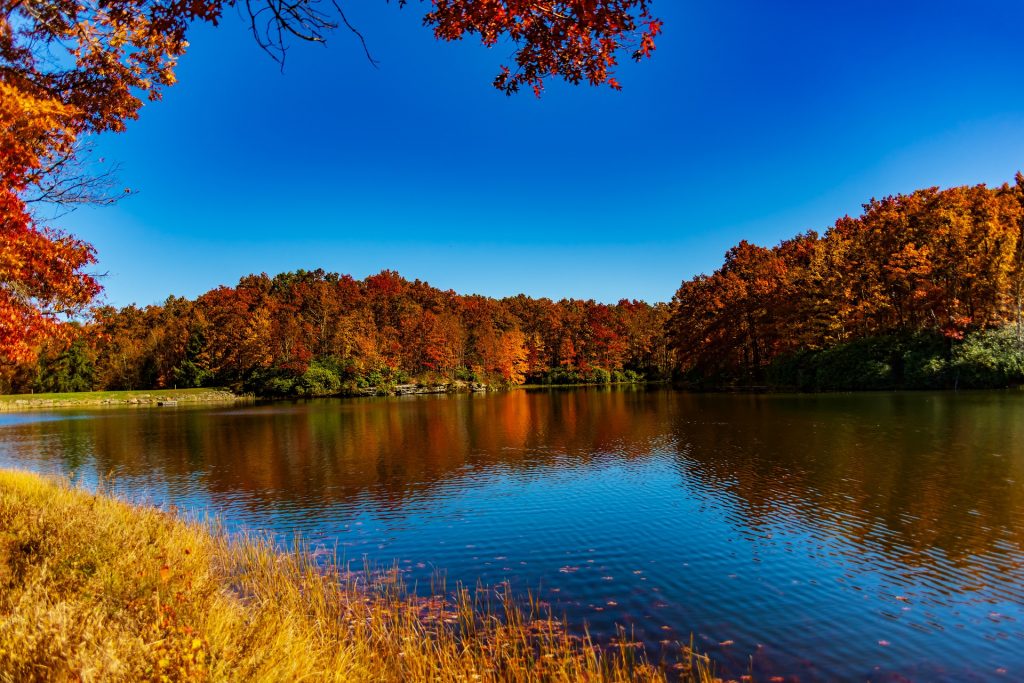 But then, two weeks later, you get a letter from the local assessor.
The assessor had found an error in the tax map you were using to locate the property.
It turns out that the metes and bounds description in the property deed placed the lot in a completely different location from what the assessor's map showed!
It seemed that the beautiful parcel of near-waterfront land you thought you had purchased doesn't exist!
Even worse, there is a house on the land, which has been occupied for over 20 years.
Believe it or not, this is in fact a true story.
And it happened to us.
Take it from me, after buying hundreds of parcels of vacant land, I can tell you that raw land is complicated.
You have to deal with:

Local building and zoning laws

Faulty ownership claims

Improperly assessed lots

Environmental issues
Just to name a few.
So if you are looking for that perfect weekend getaway to hunt, camp, or build your dream home, how do you protect yourself?
How do you know whether the property has a major flaw that will prevent you from using it as you would like?
How do you even know what questions you should be asking?
Well, in the Gokce Capital Land Due Diligence Program (GLAD), we provide a comprehensive land buying due diligence checklist of over 150 items to guide you through the pitfalls of land acquisition.
Broken down into a series of short videos, GLAD will make you an expert on land due diligence in just seven days.
So you can begin your property search armed with the knowledge you need to find your perfect property.
Your land is waiting for you!
Does The Gokce Land Due Diligence Program Have Reviews From Existing Students?
Yes! Here are a few reviews: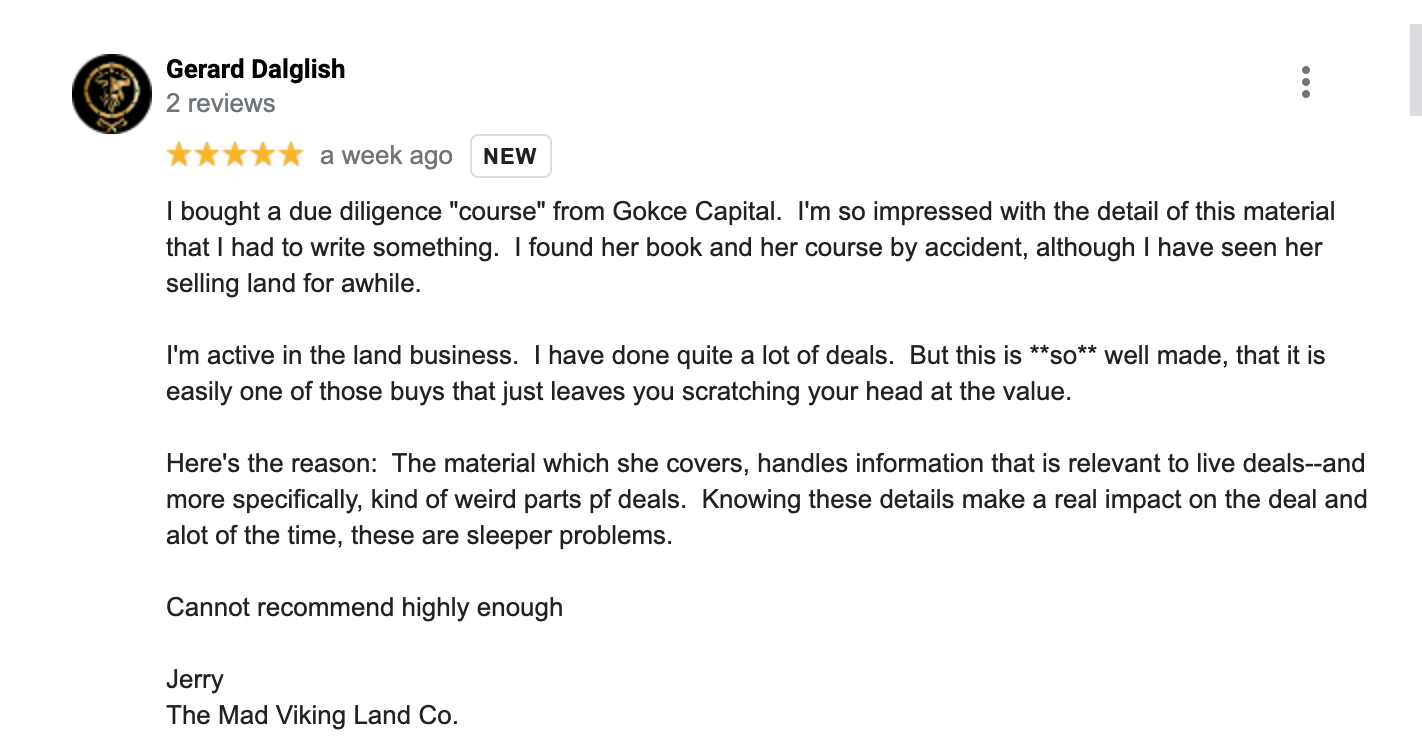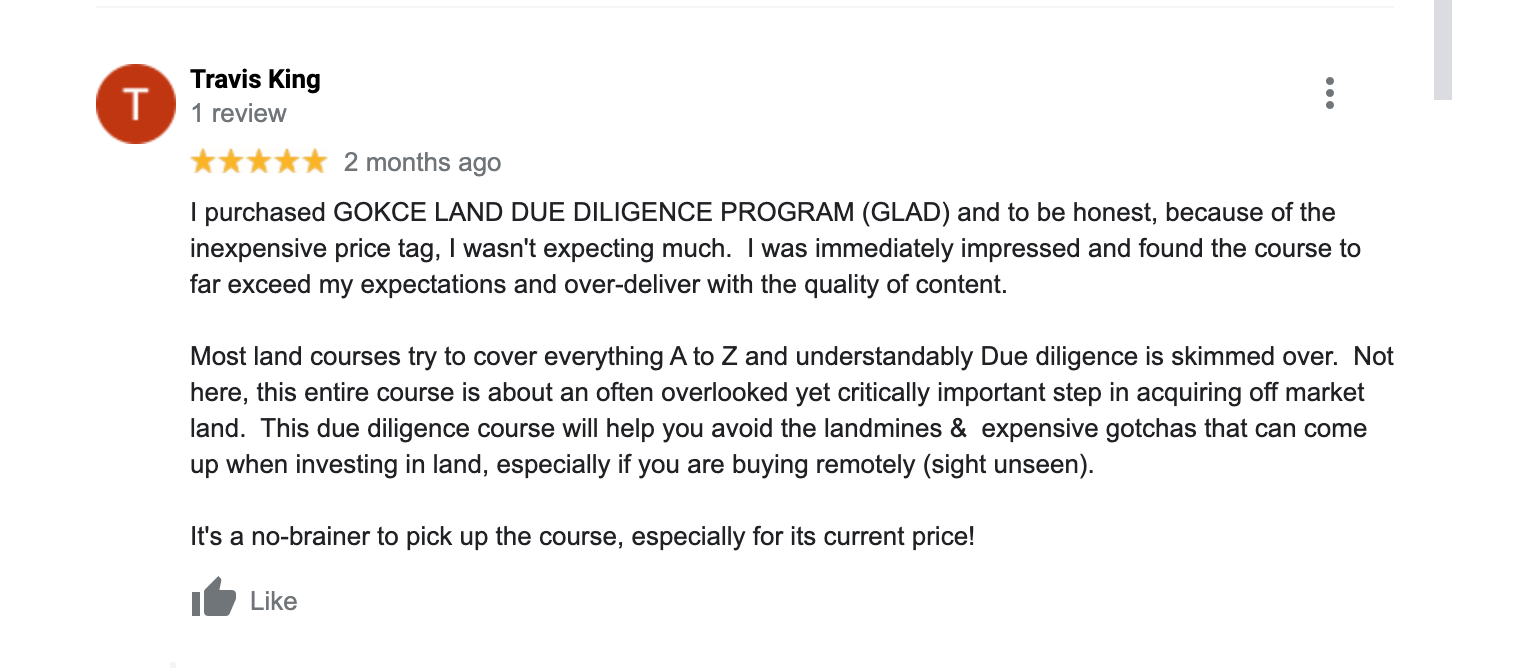 Who Am I?
Are you wondering how my experience may be relevant to you?
Well, my name is Erika Benson and I am an architect by training and a former Affordable Housing Director for the City of New York turned full-time Land Investor.
My company, Gokce Capital, has completed over 700 transactions.
So we've seen it all – the good, the bad and the ugly.
And in working with hundreds of property owners, we've noticed a common theme.

A property owner who bought a parcel of land completely covered in wetlands for over $50,000

Another land buyer who discovered contaminated oil tanks buried beneath her new property
Then there was one retired lawyer looking to sell his section of land (~640 acres) in Nevada.
He had bought the property to fulfill his lifelong dream of raising cattle.
Yet, a few years later, he decided not to retire in Nevada so he reached out to us.
We took a quick look at the lot and could not find any way to access the property.
When I told the owner this, he said he had been assured by his seller that legal right-of-ways existed by law on every section boundary line.
Yet, when we spoke to three local lawyers as well as the district attorney's office, none could identify any such law.
It seemed our seller had been misled when he purchased his land.
This is when it hit us – if a lawyer could make such a mistake, what about the rest of us?
There's so much information out there to help you buy a house, but almost nothing on vacant land.
And we've heard from numerous land buyers who say they feel overwhelmed by the land buying process.
Perhaps you too are feeling this way.
That's why we put together the Gokce Capital Land Due Diligence Program (GLAD), to provide an exhaustive guide covering everything we have learned about the various dangers of buying land and how to avoid them.
How will you benefit from the Gokce Land Due Diligence Program?
What are the benefits of learning proper land buying due diligence?

Avoiding costly mistakes that could lead to having to spend thousands of dollars in legal fees to resolve the dispute

Ensuring that your property is useful for your intended purpose

Preventing huge mistakes like buying a property without legal access

Helping you to feel confident during negotiations with your seller
Is the Gokce Land Due Diligence Program for You?
Consider this.
You find a property that appears to be perfect for building.
It's the right size.
It's zoned residential and there are homes in the surrounding vicinity.
Yet, when you go to pull a building permit, you find yourself blocked.
The property was illegally subdivided and now exists in a kind of twilight zone.
Too small to be used as recreational land, not fit for building.
And you could never tell this by simply looking at the lot.
Are you worried about running into such issues when buying land?
The world of vacant land can be stressful, confusing and complicated, and this program will help you navigate it like a pro.
The Gokce Land Due Diligence Program is broken down into over 40 modules and 150 plus videos designed to guide you on your land acquisition journey.
This program covers everything you need to make an informed decision on your next major land purchase, including:

What happens to a property when one spouse passes away

Mineral rights, water rights, crop rights, timber rights and more

Tools to analyze the development potential of a lot

What to do if a property is in a Special Hazard Flood zone

How to navigate county and city land use and zoning regulations

What to do if you have wetlands on your property

Various easements that you need to look out for

The difference between land use and zoning

How to bring utilities to land

Environmental contamination and how to catch it

The things that a title search won't catch

What to do about encroachments

How to analyze whether your site conditions are conducive to construction

Ancillary probate and other easily missed items

How to prepare a site for development

Auctions, reassessments and other tax issues

Well testing, riparian rights, water law and other items to consider when using a well

The different kinds of surveys you may want to order
What Is Included with the Gokce Land Due Diligence Program?
In the 1960s, a company bought hundreds of acres of land in the desert south of Albuquerque.
They subdivided this land into thousands of building lots and sold the properties using glossy marketing material showing beautiful suburban communities.
Thousands rushed to buy what seemed to be the next great investment.
Yet, the company had conveniently failed to mention they had never developed infrastructure in the area.
Thus, the area never blossomed into the idyllic bedroom communities promised.
Are you worried about making a poor purchasing decision?
Like any other investment, vacant land comes with some risk and requires adequate due diligence.
The more you know, the easier it is to protect yourself from a similar situation.
The Gokce Land Due Diligence Program will help ensure you do not make a costly mistake as you buy your dream property.
Our program modules include:

Ownership: How do you verify that the person selling the property is the true owner?

Undivided Interest: Even if the seller owns the property, how do you know they own the entire lot and not just a partial interest?

Probate: What do you need to do if the original property owner has passed away?

Community Property: Did you know that in some states all assets are owned jointly by a married couple, even if a property deed only lists one person as the Grantee? You'll learn more about community property in this section.

Power of Attorney: What if your seller has designated a power of attorney to handle the closing for them?

Trusts: There are many properties owned not by an individual, but a trust. What do you need to know if you are buying a trust-held property?

Mineral Rights: You may be shocked to learn that you may not be purchasing the minerals under the land. Find out more in this section.

 Investing in Timber: Are you looking to invest in timberland? How do you assess the value and quality of a timber stand?

Buying Agricultural Land: What do you need to know about buying vacant land with an agricultural lease on it?

Wind Rights: Thinking of monetizing your land with a wind farm? Here's what you should know.

Air Rights: Do you own the air above your property? Maybe – here's how to check.

Recreational Land: Are you looking for camping or hunting land?

Property Taxes: Do you want to protect yourself from an unexpected tax obligation? Learn more in this section.

Foreclosure: What should you know about buying land that is in the pre-foreclosure process?