In the past 4 years, I sold ~500 properties. Here's how you can too!
Do you feel stuck?
Does it seem like no matter what you do you just can't sell your property?
When you ask your mentor or peers how to sell properties faster, do they simply say, "it's all in the price"?
Yet, even when you know you've priced your listings correctly, do you still struggle to get leads?
Raise your hand if this hits close to home:

You have a piece of real estate you can't get rid of.

Other real estate agents or investors seem to consistently outperform you.

You feel like you've hit a sales slump.

You are upset by the poor performance of pricey listing sites.

You know you need to start digital marketing, but you're unsure how.

You want to get into real estate, but you're afraid of losing money.
Here's the problem, the world is a lot more complicated than it was 20 years ago.
And it's not enough to rely on price alone to sell properties.
Fortunately, I'm here to say that it doesn't have to be this hard.
You just need to learn how to sell smarter.
When I bought my first few properties I struggled with marketing.
Even worse, I struggled with the fear.
I had just spent a ton of money on a lot.
What if I can't sell it?
Will I be stuck with it forever?
Perhaps you too are feeling this anxiety.
Maybe it's even keeping you from starting your real estate business.
Or maybe you're about to throw in the towel because you just can't sell your properties.
Well, I can tell you that after selling almost 500 vacant land properties, I no longer worry about sales.
And I've never been stuck with a property.
But I did make a lot of mistakes along the way.
Want to learn how you too can sell more properties?
MLS?
It used to be that you could simply post your listing on the MLS and watch it fly.
But have you noticed that the MLS is not working as well as it used to?
Times are changing and we all need to add a bit more OMPH to our sales strategy to move properties like we used to.
And this means branching out into:

Email marketing

YouTube and video content

SEO

Ebook creation

Blog writing

Database design

Metrics tracking

And more!
All of this is to say that you must be a full-on digital marketer as a land investor or real estate agent.
But if you have no background in marketing, computer science, design or content creation, what do you do?
I'm Erika Benson, and I know what it's like to feel frustrated and overwhelmed by poor sales
I run a land investing business that has currently sold over 500 properties.
But it wasn't always this way.
Four years ago I could barely sell a property.
Today, I sell over 100 properties a year.
Just like you, I didn't come from a marketing background, so I had a steep learning curve.
And this is why I want to share my learnings with you – so you can have a solid base as you start to incorporate digital marketing techniques into your real estate business.
My aim is to impart the marketing techniques and theory I learned in an easy-to-digest way by sharing stories of mistakes and lessons I learned while selling properties in the real world.

This way, you can see the concepts put into practice before you try them!
Introducing 31 Lessons To Help You Sell Your First 500 Properties Online
This course is for anyone who wants to sell or market land, including:

Land investors

Real estate agents

Property owners
Whether you are a beginner or an expert looking to grow your sales, you should be able to learn at least ONE NEW THING that will help you:

Avoid mistakes

Optimize your business

Sell more properties

Rethink your marketing strategy

Improve your emails

Reimagine how you handle phone calls

Create a lead magnet
The course is designed to be a one-stop shop for all kinds of sales strategies.
I've also priced it so you just need to make ONE MORE SALE based on a piece of information you gained from this course in order to make your money back!
Why make the same mistakes that someone else did?
When you learn from others, you can accelerate your own process and start selling more properties fast.
What Will You Get?
In this course, you will get 31 stories of mistakes I made while selling land.
Each one ends with an action I took to improve my sales process and a lesson that you can apply to your own real estate business or sales.
The lessons I learned touch on a broad range of marketing and sales topics such as:

How I improved my email campaigns so that my emails were finally opened and read!

How I reduced the amount of time I spent on the phone without ignoring customers.

How I built trust so no one ever accused me of being a scam again.

The one, super basic thing I forgot on my website that cost me sales.

How a nuclear mishap changed the way I think about workflow.

The big problem with overselling.

What I learned about lead magnets and how to generate interest in my website and offerings.

Price vs value offers and how the difference can make or break a business.

The laws that can get you in trouble if you send out mass emails.

The benefits of using a database to automate key aspects of our business.

What goldfish have to do with marketing.

Who is Kevin Malarkey and why does he buy land?

The best place to find sunglasses (and leads).

The methods I used to introduce quality control so that errors in listing pages didn't lose me sales.

The case of the missing river and why due diligence matters!

A quick look at possibly the worst website ever.

How one Facebook listing caused a panic.

The problem with too many email subscribers.

The inescapable law of skin in the game and what it means for owner financing.

What 19th-century architecture students have to do with sales copy.

How lead flow is like Christmas at the airport.

Can you manage what you can't measure?

How trying to help customers got me in trouble with county officials.

The one old cliche about selling that is actually true.

The big problem I had with PayPal.
Plus A Bonus!
Of course, no story can replace a real-life, flesh-and-blood guide when you get down to the messy business of actually selling real estate.
So, do you want personal help with your land sales?
Well, you're in luck!
I've included a forum as an added bonus with your purchase of this product.
You can message me through each course module and I will try to respond within 24 hours.
If you have any questions about your own sales, you can also email me directly!
So you have access to my direct knowledge FOR FREE.
Also for a limited time, you will get a FREE 30-MINUTE CONSULTING CALL and COMPLIMENTARY VACATION VOUCHER as part of your purchase.
Together these two bonuses are worth over $1500, and they are at no additional cost to you!
Reviews From Existing Students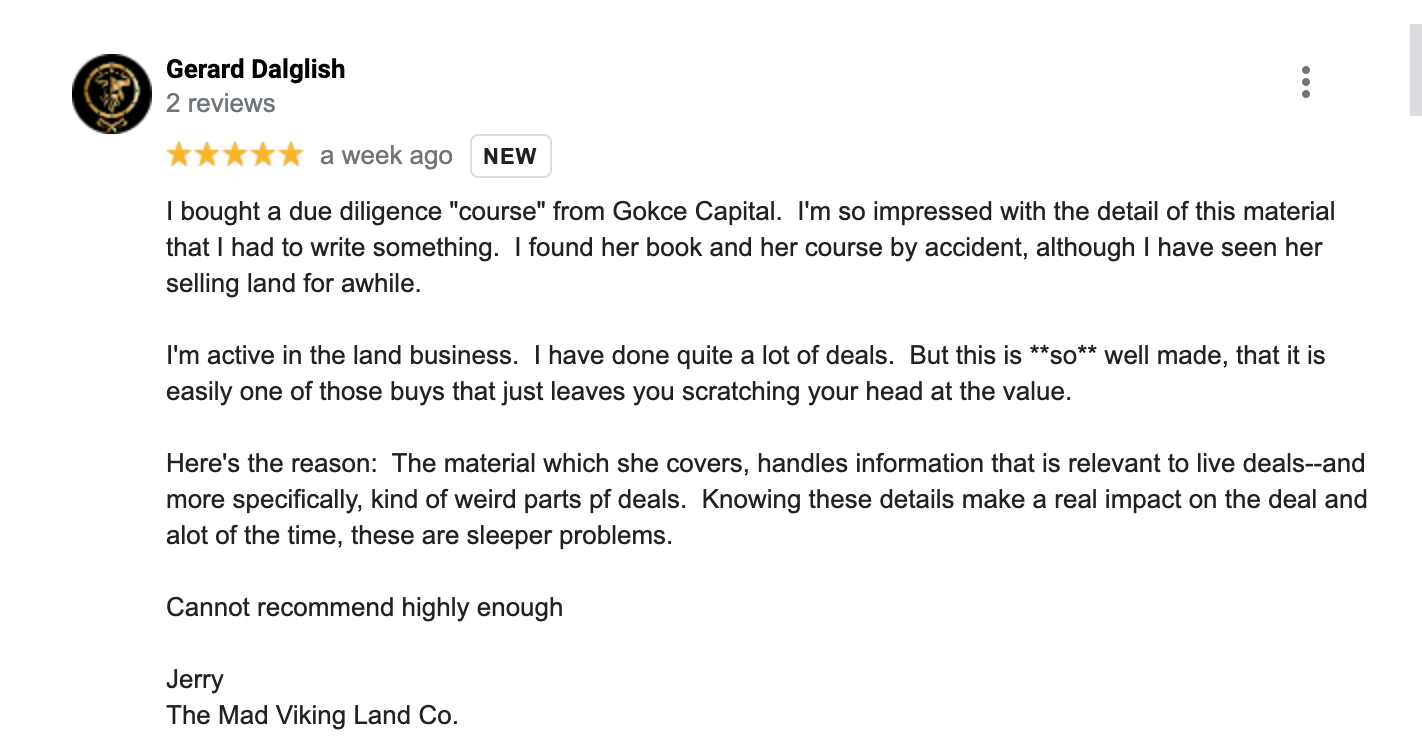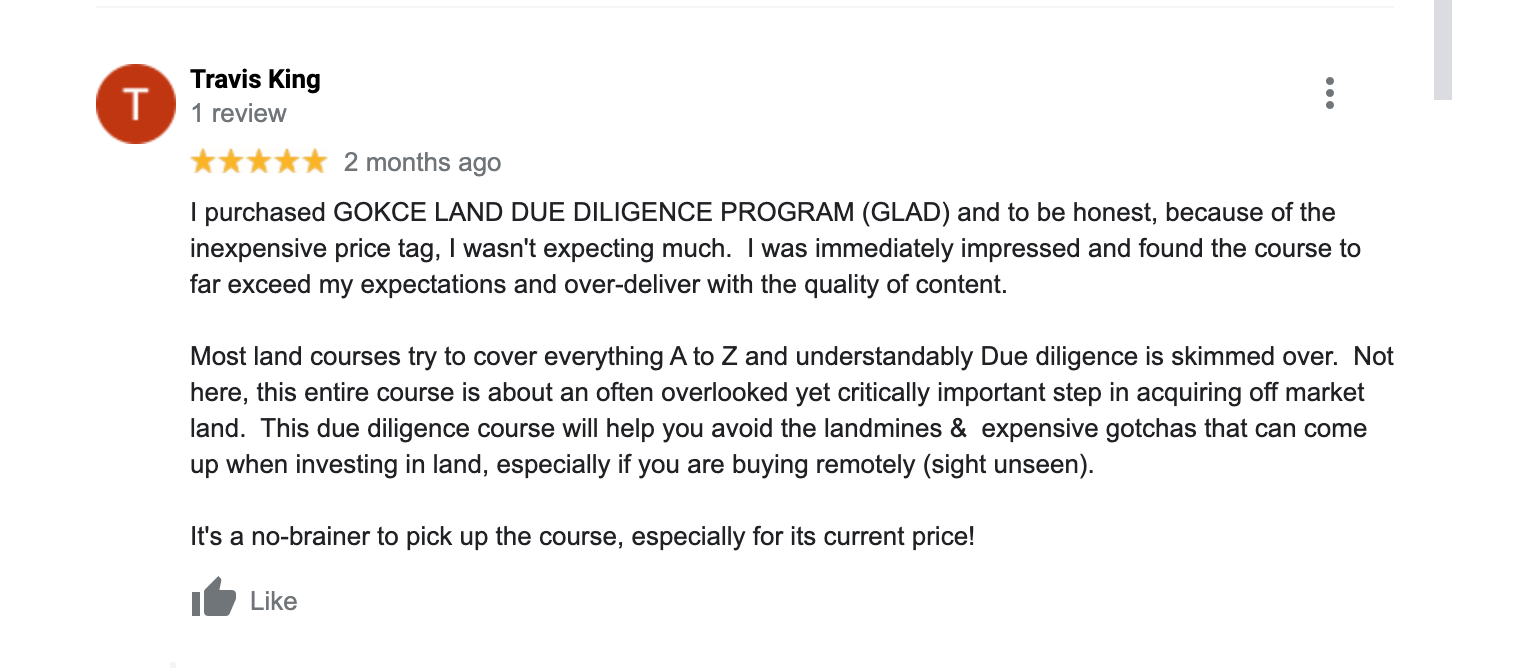 Note: because the course is new we only have one review for this product, but we have included reviews from our other courses.
This Is Not A Traditional Course!
But I should clarify – this is NOT a traditional course.
Rather, it is a series of 31 stories of mistakes I made while selling land, each one ending with an action I took to improve my sales process.
The stories are designed to get you thinking – some may cause you to take direct action, while others may not be relevant at all….
But either way, the goal is to share my experience, not tell you what to do.
I do know that there are a lot of courses out there that offer to help your business, and it probably feels scary to put a few hundred dollars down on a product that does not promise magic results.
This is why I've also included a forum option in this course as a BONUS.
I have also priced the course low enough that you only need to gain ONE extra sale based on the information I provide to get your money back.
And I'm going to share one of the 31 stories below, so you can preview it and determine whether the course is right for you.
Simply click on the podia link below to see the course content along with the previewable video to get a sense of whether my style, experience, and knowledge will be helpful for you.
Imagine This
I had recently sold a 2-acre property in New York on owner financing.
The buyer was excited about the lot and eager to purchase, but upon reviewing the owner financing documents they sent me one question:
Why is the price wrong?
I was a bit confused by this query.
I double-checked the owner financing documents and the numbers all appeared to be correct.
But then, I reviewed all my listing pages and found the problem immediately.
My virtual assistant had left out a zero on our listing page.
The property's price was correct on landwatch, landflip and landmodo, but on our own website, it was listed at $1700 – not $17,000.
This was a major error on our part, and I did want to lose a sale over it, so I eventually agreed to give the buyer a discount by way of apology.
But the whole thing was embarrassing.
We had been in business for a few years already and there was no excuse for making such a basic mistake.
Furthermore, this was not the first time we had caught posting errors in our listings.
Nothing had risen to this level before, but it was clear that human error was a major problem.
At the time we had a robust checklist for our VAs that covered each step of the listing process.
We also had them send us a start-of-day and end-of-day report wherein they checked that all prices were correct on all listing pages.
Unfortunately, neither of these steps was sufficient to stop the errors.
This is why we eventually decided it was time to build a relational database to maintain all of our data.
The most popular database used by companies is MySQL – in fact, you've probably heard of or used MySQL before.
MySQL, or one of its competitors, allows you to maintain your company's data integrity by implementing rules around what data may be entered in any particular table.
But more importantly, a relational database also allows you to maintain referential integrity, so that changes to data in one table will affect all relevant data in other tables across the database.
This means that we could add a sales price to the database and have it spit out a listing page template for our VAs to copy and paste into the listing websites.
It works like this: you can have one table that stores information on a property, such as its sales price.
Each property in this table has an ID used to identify it.
You then have another table that stores your listing page template information.
In your listing page template table, you include a column with the property ID, which will link the listing page table to the property table.
Thus, when you update the property information, the listing page template is updated as well.
You can then export the listing page templates and send them to a VA, who simply needs to copy and paste them into the listing page website.
In our case, because my partner is in computer science, we were able to take this a step further and use our database to update our website listing page directly, so a VA is never even involved.
This way, there can be no room for human error.
Databases are a powerful tool to keep your information accurate and error-free, this is the reason that just about every company uses a database.
But the problem for many small businesses is that databases can be time-consuming to create, or costly if you must hire outside help.
This is precisely why we waited so long to set one up, even when we had the in-house skills to do so at a relatively low cost.
But the sooner you do it the better, for as we saw, as you scale up, human error will begin to take its toll.
All you have to do is hire someone on a site like Fiverr to help you set up and maintain a MySQL database.
The costs are minimal when you consider that for every mistake you catch, there are likely at least five others you don't.
Want to hear more?
Check out the full course to listen to the additional 30 stories detailing the lessons I learned from selling 500 properties.
Who Am I?
In case you don't know me, I'm Erika Benson, Co-founder of Gokce Capital LLC.
My business is all about buying and selling land – and in the last four years, I've sold almost 500 properties.
That's over 100 properties a year.
So I've learned a lot about selling land.
But that also means I've made plenty of mistakes.
As I grew my business, I often turned to personal stories from other entrepreneurs, land investors, marketers, and real estate agents.
This is why I wanted to pay it forward and share some of my own stories and lessons learned.
My hope is that whether you are starting, growing, or perfecting your real estate business, the lessons in this course will help you tweak and optimize your sales machine.
Disclaimer: We are not lawyers, accountants or financial advisors. All opinions expressed by Gokce Capital are the result of personal research and experience, and our content is intended for informational purposes only. It is very important that you do your own due diligence and analysis before making any kind of investment. The information in this program is from our experience, you should still hire your own specialized professional/real estate agent/attorney to ensure you understand and comply with all local laws where applicable. You should also be sure to take financial and/or legal advice from a professional in conjunction with any information you receive from our website when making an investment decision or otherwise. Please also note that we have done our best to make sure all information on our website is accurate and up-to-date, but there may be occasional errors and misprints.